THUNDER BAY -- It was a partly cloudy warm evening at Yankee Stadium as the stars of the TBBL came together for the annual all star game. The NL opened the scoring in the top of the second as Jorge Posada singled home Albert Pujols who coubled off Brandon Webb to open the inning. The NL added another run in the third as Ichrio walked to open the inning, stole second and eventually scored on Pujols' lined single to right center.
The game remained 2 to 0 until the top of the 5th when the NL broke open the game. Ryan Braun hit a pinch hit 3 run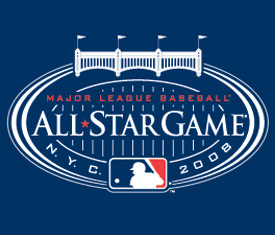 home run off Rich Hill deep to left center after Jones and Pujols reached base on a single and a walk. Three hitters later Magglio Ordonez followed suit with another 3 run home run to the short porch in right field.
The AL got on the scoreboard in the bottom of the 6th when Matt Holiday lined a two out double to left center off Fausto Carmona to score Tori Hunter and Hanley Ramirez. H. Ramirez finished the scoring in the bottom of the 8th with an HR off Josh Beckett.
Click here for the box score.