The 7th Annual All Star Game took place on Wednesday, July 14. The National League, led by Craig Morancie of the Twins defeated the Noel Langlois Smackdown led American League 5-2. Full coverage begins with the starting lineups and concludes with the ASG write up courtesy of Noel.
National League Starting Lineup
American League Starting Lineup
PLAYER
TM
POS

STATS

PLAYER
TM
POS
STATS
1
D. Span
FWK
CF
.361-4-37
1
H. Ramirez
LAH
SS
.327-13-48
2
R. Cano
MOO
2B
.340-14-65
2
M. Holiday
LTR
LF
.349-12-63
3
A. Pujols
SFS
1B
.307-21-72
3
J. Mauer
SAL
C
.361-14-50
4
P. Fielder
BEA
DH
.304-18-45
4
M. Cuddyer
SAL
2B
.264-21-67
5
R. Zimmerman
OSC
3B
.304-18-45
5
M. Reynolds
CAR
3B
.276-30-80
6
N. Markakis
OSC
RF
.310-14-40
6
K. Morales
VOL
DH
.342-19-65
7
T. Tulowitski
NEW
SS
.287-23-78
7
S. Choo
KEN
RF
.368-17-50
8
J. Posada
MOO
C
.301-14-43
8
Ad. Gonzalez
VOL
1B
.299-30-64
9
A. Lind
OSC
LF
.318-18-50
9
C. Granderson
LAH
CF
.275-16-42
SP
C. Kershaw
OSC
12-2, 2.92 ERA
SP
Z. Grienke
VOL
14-1, 1.83 ERA
CL
R. Franklin
FLY
2-4, 1.43 ERA 22 Sv
CL
J. Nathan
CAR
3-3, 1.71 ERA 24 Sv
Reserve Roster
TM

BATTERS

POS
TM
PITCHERS
TM
BATTERS
POS
TM
PITCHERS
BEA
V. Martinez
C
NEW
C. Billingsly
PHS
J. Buck
C
VOL
U. Jiminez
OSC
M. Cabrera
1B
PAN
C. Breslow
KEN
J. Votto
1B
PHS
J. Johnson
BEA
P. Fielder
1B
FLY
J. Broxton
LTR
T. Helton
1B
MIC
C. Carpenter
PAN
M. Tiexiera
1B
FWK
G. Floyd
CAR
B. Zobrist
2B
SAL
S. Feldman
MAD
E. Aybar
2B
CHE
T. Lincecum
FLA
B. Roberts
2B
LTR
J. Lester
CHE
D. Jeter
SS
MAD
A. Pettitte
VOL
J. Bartlett
SS
SAL
F. Rodriguez
SMC
M. Young
3B
OSC
J. Verlander
LAH
K. Youkilis
3B
MID
M. Thornton
NEW
R. Braun
LF
SMM
C. Qualls
JER
A. Dunn
LF
CAR
K. Calero
NEW
C. Coghlan
LF
.
.
COL
C. Headley
LF
KEN
H. Street
MAD
R. Ibanez
LF
.
.
VOL
I. Suzuki
RF
.
.
OSC
J. Ellsbury
CF
.
.
.
.
.
.
.
OSC
M. Kemp
SS
.
.
.
.
.
.
.
.
.
.
.
.
.
.
.
.
.
ANAHEIM, CA -- The NL jumped out to a quick lead in the first against AL starter Zach Greinke.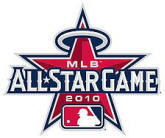 ASG MVP Denard Span led off with a single and promptly stole second. Robinson Cano then knocked him in with a single and moved to second on an error by Shin-Soo Choo. After two batters, the NL was up 1-0 and the AL crowd sat in stunned silence. Some were even seen heading for the exits, knowing the un-LHP-mashing AL starting lineup would have a tough time scoring against NL starter Clayton Kershaw. Strangely, they forgot this was an All Star Game where the starter only lasts a few innings. Anyway, Greinke calmed down and got the meat of the NL order (Albert Pujols, Prince Fielder, and Ryan Zimmerman) out to strand Cano.

The AL came up and predictably did nothing against Kershaw for the three innings he pitched. He faced one batter over the minimum with a walk erased by a double play and a harmless single by Adrian Gonzalez. In the meantime, the NL tacked on another run in the 3rd off of new pitcher Ubaldo Jimenez. Span and Cano were in the middle of the rally again as they and 9th-hitter Adam Lind greeted Ubaldo with three straight singles with Cano knocking in his second run of the game. Pujols and Fielder again stopped the rally short with a double play and a weak pop out to the catcher. Ubaldo had a 1-2-3 fourth inning after Kershaw blew away the AL in the third.

Kershaw was replaced by Justin Verlander in the 4th and the AL team breathed a big sigh of relief for their second trip through the order. Verlander hit Matt Holiday with a 2-0 pitch to lead off the bottom of the 4th. Joe Mauer followed with a single, sending Holliday to 3rd. After a Cuddyer strike out, Mark Reynolds knocked in Holliday with a single and halved the lead. Verlander then got Kendry Morales to hit into a 1-6-3 double play to end the rally.

Jon Lester pitched the 5th for the AL, striking out the side while giving up Span's third hit of the game. Andy Pettitte came in to pitch the bottom of the 5th and promptly gave up the lead. Choo led off with a single and after Gonzalez struck out, the versatile Ben Zobrist hit a game-changing 2-run pinch-hit homer deep to left to put the AL up 3-2. Pettitte got out of the 5th without any more damage.

Josh Johnson started the 6th for the AL and it looked like it would be another quiet inning for the NL after the first two batters. Derek Jeter led off with a single but was caught stealing. LVP Fielder whiffed and Josh was feeling good but the success must have gone to his head as he walked Zimmerman, gave up a single to Nick Markakis, and then walked Miguel Cabrera to load the bases (the only 2 walks given up by AL pitchers all night). Joe Nathan was summoned from the pen to put out the fire and he struck out Jorge Posada to leave the NL empty-handed.

The AL took advantage of the deflated NL by tacking on two more runs in the 6th. Tim Lincecum started the 6th for the NL and walked Brian Roberts after getting Mauer to pop out to short. Roberts stole second on a botched hit-and-run with Ichiro. Ichiro made up for his mistake by lashing a run-scoring double to left-center. That was it for Lincecum as Craig Breslow was brought in to face Joey Votto. Breslow was battling ASG jitters as he balked Ichiro to 3rd. Votto hit a single to knock in Ichiro to extend the lead to 5-2. Breslow was still jittery as he balked Votto to second (what's the ASG record for most balks?) but he got out of the inning.

With a 5-2 lead heading into the 7th, the AL emptied the pen and a parade of pitchers shut down the NL stars. Kiko Calero proved his All-Star worthiness by pitching a scoreless 7th (with the poor showing by the alternate reality "Yankees" in the ASG, could Mo have done that?). His only blemish was giving up the NL's last hit to - who else? - Span, who capped his night with his fourth singled of the game. Chris Carpenter, Matt Thornton, Scott Feldman, Huston Street, and Francisco Rodriguez then got the last 6 outs without allowing a base runner to wrap up the 5-2 win for the AL. Click here for the box score.

Denard Span was the MVP for his 4 for 4 night. Ben Zobrist received some votes for his game changing homer in the 5th. Thanks to Craig for playing.