Kansas City, Missouri - It was a hot and steamy evening at Kauffman Stadium when the best of baseball gathered to play this year's mid-summer classic. The National League was managed by Mike Witkowski of the Eagles as he faced off against stand in manager Mike Witkowski of the Eagles. The TBBL has agreed to pay for Mike's future therapy bills! Game time temperature was 102 degrees and the heat seemed to have an affect on both Starting Pitchers.
The National League was able to get on the board in the top of the first. Jose Reyes lined the first pitch of the game up the middle for a single. After a fielder's choice and another single, Matt Kemp drove home the game's first run with a sacrifice fly and the NL had an early lead. The American League nearly answered back in the bottom of the inning when they loaded the bases on a single and two walks, but Justin Upton flied out and NL starter Ricky Romero escaped.
AL Starting pitcher Jered Weaver worked around a Daniel Murphy error in the 2nd inning and finished his work trailing 1-0. Romero then took the hill for the bottom of the frame. His wildness continued as he issued a one out walk to Mark Reynolds, his third free pass of the game, before retiring Murphy. Granderson reached on an infield single and Pence was hit by a pitch that loaded the bases for Joey Votto. The first baseman ripped a double down the right field line and the AL took the lead 2-1. Romero limited the damage by intentionally walking Napoli and striking out David Ortiz to pitch out of a bases loaded jam for the second time.
Matt Cain pitched the top of the 3rd for the AL and made quick work of the opposition, getting three outs on four pitches. Tim Hudson was called on for the NL and pitched himself into the third bases loaded situation in as many innings for the senior circuit. However, the magic act continued for NL pitchers, and Hudson induced a double play and a pop out to strand another three AL base runners.
After barely breaking a sweat in his inning of work, Cain went out for fourth as well. This time the NL made him work. Kemp and Sandoval started the inning with singles and there were runners on the corners with no outs. Cain settled down, getting a ground out and two strike outs to end the inning without giving up a run. Dan Haren pitched a scoreless inning for the NL in the bottom of the inning.
Lefty Randy Wolf got the call to pitch the 5th for the AL. National League DH Michael Young singled to start the inning, but was erased when the AL turned a spectacular double play hit by the speedy Jose Reyes. The NL wasn't done picking on the southpaw, as pinch hitters Yunel Escobar and Alber Pujols both drew walks before Kemp hit a double to drive in his 2nd RBI and tie the game 2-2. Wolf then intentionally walked pinch hitter Adrian Beltre to load the bases and face the left hand hitting Robinson Cano. The NL sent up yet another pinch hitter in Ryan Braun. Braun hit a harmless ground ball to second base and another potential big inning was squashed. Hamels threw a scoreless inning for the NL and the game remained tied at two after 5 innings.
Ian Kennedy allowed just a Michael Young single in the top of the 6th. Starlin Castro lead off the bottom of the inning with a double off Johnny Cueto. Matt Holiday walked and pinch hitter Melky Cabrera doubled to left center driving in two and giving the AL a 2 run lead. Cueto then retired pinch hitters Ethier and Berkman before intentionally walking Napoli to bring up Ortiz. It was the second time the NL decided to pitch to Ortiz over Napoli. Clayton Kershaw was summoned for the assignment. This time Big Papi made the NL pay for disrespecting him and blasted a three run bomb to deep right field off of the left handed Kershaw. The inning ended with the AL scoring five runs and taking a commanding 7-2 lead.
The 7th and 8th innings were dominated by the bullpen arms, as relievers Joel Peralta, Andrew Bailey, Craig Kimbrel and Daniel Bard did not allow a single batter to reach base.
Mariano Rivera was brought in to finish the game in the 9th inning. After retiring Carlos Beltran, pinch hitter Evan Longoria took Mo deep for a solo shot and the NL was not going down without a fight. It was too little too late though, as only a two out single from Yunel Escobar stood in the way of a 7-3 AL victory.

Melkey Cabrera was named MVP.
American League Starters
National League Starters
PLAYER
TM
POS

STATS

PLAYER
TM
POS
STATS
1
J. Upton
HOU
LF
.266-21-56
1
J. Reyes
SAS
SS
.333-2-32
2
H. Pence
JER
RF
.314-12-61
2
R. Cano
MOO
2B
.286-11-53
3
M. Napoli
GRI
C
.382-35-87
3
M. Kemp
OCS
LF
.332-17-52
4
D. Ortiz
LAH
DH
.312-19-65
4
A. Gonzalez
SAS
1B
.355-15-59
5
J. Votto
KEN
1B
.308-12-56
5
G. Stanton
SAS
RF
.235-23-57
6
C. Granderson
LAH
CF
.283-25-72
6
J. Ellsbury
OCS
CF
.317-24-50
7
M. Reynolds
KEN
3B
.282-25-73
7
P. Sandoval
FWK
3B
.303-20-45
8
D. Murphy
PHS
2B
.347-4-34
8
A. Avilla
PAN
C
.267-14-48
9
JJ Hardy
LAH
SS
.252-18-63
9
M. Young
SMC
DH
.357-3-47
SP
J. Weaver
LTR
12-4, 2.28 ERA
SP
R. Romero
MOO
10-2, 2.85 ERA
CL
M. Rivera
LAH
2-1, 1.01 ERA 22 Sv
CL
D. Bard
PAN
1-0, 0.59 ERA 23 Sv
Reserve Roster
TM

BATTERS

POS
TM
PITCHERS
TM
BATTERS
POS
TM
PITCHERS
LAH
Y. Molina
C
FLA
Alberquerque
SMC
B. McCann
C
OSC
C. Kershaw
HOU
L. Berkman
1B
KEN
C. Kimbrel
SMM
G. Soto
C
BEA
J. Cueto
PHS
E. Bonafacio
2B
GRI
R. Wolf
SFS
A. Pujols
1B
SAS
D. Haren
VOL
S. Castro
SS
LAH
CC Sabathia
SMC
H. Kendrick
2B
OCS
T. Hudson
PHS
A. Ramirez
3B
COL
I. Kennedy
SMC
Y. Escobar
SS
OCS
C. Hamels
LTR
M. Holliday
OF
GRI
J. Guerra
PAD
E. Longoria
3B
SFS
A. Bailey
HOU
M. Cabrera
OF
JER
M. Cain
MOO
A. Beltre
LF
FLY
K. Uehara
BOM
BJ Upton
OF
LTR
J. Perlata
NEW
R. Braun
CF
SMC
J. Venters
COL
E. Aybar
SS
.
.
SMC
J. Hamilton
CF
MOO
G. Holland
GOT
B. Butler
1B
.
.
MOO
C. Beltran
RF
.
.
COL
A. Ethier
OF
.
.
.
.
.
.
.
See how the owners voted to the 2012 All Star Game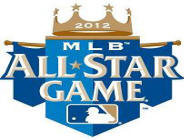 American League Ballot
National League Ballot
Catcher
Votes
Pct
Catcher
Votes
Pct
Mike Napoli - GRI
19
79%
Alex Avilla - PAN
9
38%
Brian McCann - SMC
8
33%
Nick Hundley - MOO
1
4%
Owner Did Not Vote
5
21%
Owner Did Not Vote
6
25%
1st Base
Votes
Pct
1st Base
Votes
Pct
Joey Votto - KEN
11
46%
Adrian Gonzalez - SAS
17
71%
Lance Berkman - HOU
5
21%
Albert Pujols - SFS
1
4%
Mark Teixeira - LAH
2
8%
Derek Lee - PHS
1
4%
Owner Did Not Vote
5
21%
Owner Did Not Vote
6
25%
2nd Base
Votes
Pct
2nd Base
Votes
Pct
Daniel Murphy - PHS
10
42%
Robinson Cano - MOO
11
46%
Ben Zobrist - GRI
5
21%
Howie Kendrick - SMC
7
29%
Dustin Pedroia - COL
4
17%
Owner Did Not Vote
5
21%
Owner Did Not Vote
6
25%
Shortstop
Votes
Pct
Shortstop
Votes
Pct
JJ Hardy - LAH
9
38%
Jose Reyes - SAS
15
63%
Jason Castro - VOL
8
33%
Elvis Andrus - BEA
2
8%
Emil Bonafacio - PHS
2
8%
Adam Lind - OCS
1
4%
Owner Did Not Vote
5
21%
Owner Did Not Vote
6
25%
3rd Base
Votes
Pct
3rd Base
Votes
Pct
Mark Reynolds - KEN
16
67%
Pablo Sandoval - FWK
14
58%
Mike Moustakas - PHS
1
4%
Evan Longoria - PAD
3
13%
Alberto Callaspo - VOL
1
4%
Adrian Beltre - MOO
1
4%
Kevin Youkilis - LAH
1
4%
Owner Did Not Vote
5
21%
Owner Did Not Vote
6
25%
Leftfield
Votes
Pct
Leftfield
Votes
Pct
Justin Upton - HOU
13
54%
Matt Kemp - OCS
17
71%
Matt Holiday - LTR
4
17%
Ryan Braun - NEW
1
4%
Nelson Cruz - FLA
1
4%
Chris Heisey - KEN
1
4%
Owner Did Not Vote
5
21%
Owner Did Not Vote
6
25%
Centerfield
Votes
Pct
Centerfield
Votes
Pct
Curtis Granderson - LAH
14
58%
Jacoby Ellsbury - OCS
18
75%
Michael Bourn - PHS
4
17%
BJ Upton - BOM
1
4%
Owner Did Not Vote
5
21%
Owner Did Not Vote
6
25%
Rightfield
Votes
Pct
Rightfield
Votes
Pct
Hunter Pence - JER
13
54%
Giancarlo Stanton - SAS
10
42%
Andre Ethier - COL
5
21%
Carlos Beltran - MOO
8
33%
Matt Joyce - LTR
1
4%
Owner Did Not Vote
5
21%
Owner Did Not Vote
6
25%
DH
Votes
Pct
David Ortiz - LAH
18
75%
Jim Thome - HOU
1
4%
Owner Did Not Vote
5
21%
Starter
Votes
Pct
Starter
Votes
Pct
Jared Weaver - LTR
13
54%
JC Romero - MOO
6
25%
Matt Cain - JER
3
13%
Clayton Kershaw - OCS
6
25%
Tim Lincecum - VOL
1
4%
Dan Haren - SAS
3
13%
Roy Halladay - KEN
1
4%
Tim Hudson - OCS
2
8%
Felix Hernandez - HOU
1
4%
Johnny Cueto - BEA
1
4%
Owner Did Not Vote
5
21%
Owner Did Not Vote
6
25%
Closer
Votes
Pct
Closer
Votes
Pct
Mariano Rivera - LAH
14
58%
Daniel Bard - PAN
8
33%
Craig Kimbrel - KEN
4
17%
Drew Storen - SMC
5
21%
Joel Peralta - LTR
1
4%
Andrew Bailey - SFS
5
21%
Owner Did Not Vote
5
21%
Owner Did Not Vote
6
25%