It was a lovely evening at PNC, and this yearís edition of the Thunder Bay All-Stars did not disappoint the fans. Actually the fans saw two games.
The first game was a pitchers dual between Johan Santana of the NL and Roger Clemens, Andy Pettitte and Brian Lawrence of the AL. The four combined for 9 strikeouts, 2 walks, 3 hits and 1 lone run. But after that it was a totally different game.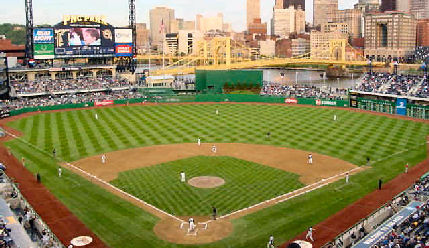 The two teams combined for 14 runs and 19 hits the rest of the way to give the fans a game that they could thoroughly enjoy. It looked like the NL was going to run away and hide as Pedro Martinez was hammered for 4 run in 1/3 of an innings work. The big blow was a Chase Utley HR to cap the 4 run barrage unleashed on Pedro.
The AL got heated up in the 6th innings and it was Manny Ramriez and Co. hanging a 3 spot on the NL to make the score 5-4 NL. Manny hit a shot off Andy Sisco that traveled an estimated 483 ft into the upper deck at PNC Park. But not to be out done, the NL answered with 2 runs of their own in the bottom of the 6th inning.
Throughout the rest of the game the AL would score and the NL would answer. In the end the NL hung on to win by a score of 8-7. Chase Utley was named the games MVP. Though Utley was officially only 1 for 1 on the day that hit was a huge solo shot in the 4th inning. Also, Utley was able to accomplish the unthinkable in an All-Star game. Following a leadoff double by Jason Varitek in the 3rd inning, Utley laid down a picture perfect bunt to move Varitek to third where he scored on a single by Adrian Beltre. As it turned out, that first run was an important run. BJ Ryan came in to entice Lance Berkman in grounding out to end the ball game as pick up the save, with the tying run 90 feet away from home.
Thatís it from PNC Park where the final score is the NL 8 and AL 7.
Click here for the box score.